CNC cutting refers to computerized controls paired with cutting tools to obtain an accurate and precise cut finish. It is used in industrial situations where mass production is the objective and the materials produced are needed to have very few faults and contain inaccurate or irregular shapes. Machine shops and mass production facilities in a broad range of industrial and commercial settings, including aerospace, avionics, automotive, agriculture, food and chemical processing, pharmaceutical, military, and defense, utilize this particular type of machining in daily operations. Read More…
CNC Cutting
CNC cutting is a precision manufacturing process that uses a number of different mechanical techniques in conjunction with computer numerical controlling software to remove excess material and create complex two dimensional and three dimensional shapes.
How CNC Cutting Machines Work
Firstly, the program of the desired part is loaded into the MCU (machine control unit) of the CNC (computer numerical control). The program's data is read, and the commands are executed to the driving system. If there are any errors or mistakes inside the MCU, signals are sent to correct and restructure the components to where they are supposed to be. A display panel acts as the user interface and shows the user-executed instructions or commands to be executed.
Types of CNC Cutting Machines
The types of CNC cutting machines include:
Milling Machines
Milling machines are the most popular CNC cutting machines and feature a multi-blade cutting mechanism. The blades are attached to a spindle and are rotated at high speeds on a stationary workpiece. They are ideal for angle cuts and complex cuttings, and they can work on metals and other materials such as plastics and wood.
Routers
CNC routers are similar to CNC mills as they also use a multi-blade system on a stationary workpiece. They, however, are commonly used on softer and more delicate materials such as wood, foam, and plastic.
Lathes
CNC lathes are also derived from CNC mills and routers. They comprise a chuck and spindle that depends on CNC technology. In CNC lathes, the spindle and chuck hold and spin the workpiece on the cutting tool. They are commonly used on complex cylindrical shapes.
Laser Cutters
Laser cutters are closely related to mills in the types of materials they can machine. The difference is that laser beams are used in this cutting machine. A laser is essentially a column of intensified light. When this light is directed at a workpiece, it melts that object until a cut is produced.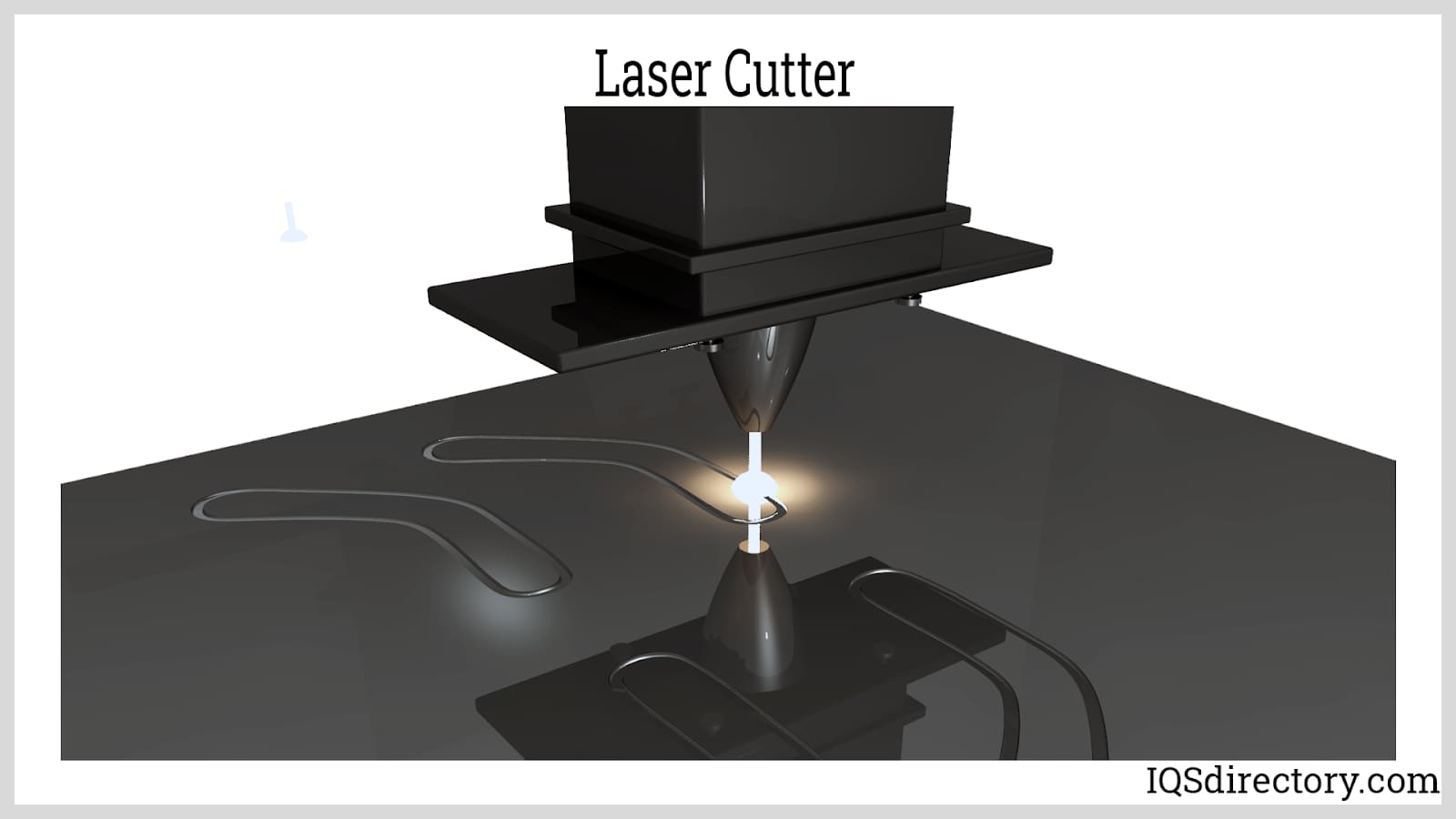 Plasma Machines
Plasma machines offer a higher level of cutting precision and a wider range of material compatibility. They produce high-powered plasma that reaches very high temperatures. This plasma can cut through any material that can conduct electricity.
Electrical Discharge Machines
CNC electrical discharge machines are called spark machines because they use electric sparks to cut materials. To function, the material to be cut must also be a good electric conductor.
Water Jet Cutters
A CNC water jet uses a pressurized jet of liquid mixed with an abrasive substance to make piercings and cuttings on materials. The CNC technology employed controls the sequence and movement of the jet to obtain the desired cut.
Grinders
CNC grinders have rotating wheels that cut materials from the workpiece to make the required product. These machines have intelligent thermal control systems that monitor the temperature of the grinding wheel and compensate for any changes that arise.
Applications of CNC Cutting
Dental Equipment
Dentists use CNC tools because these machines help produce perfect finishes with accurate cuttings. CNC tools help maintain the high precision required in dentistry.
Weapons
The manufacture of weapons and military-grade equipment is made easy by CNC machines since they produce grade A, top-notch weapons with minimum defects.
Construction
Plumbers, fitters, carpenters, and other tradespeople require the use of CNC cutting machines for perfect finishes on construction materials.
Transportation
Designing and manufacturing transportation equipment requires utmost diligence and accuracy. These designs can be easily achieved by CNC cutting machines.
Research and Development
Modern industries increasingly design and produce prototypes for cost-saving trial runs before mass producing their goods. These prototypes are quickly and cheaply constructed with the use of CNC machines.
Niche Manufacturing
CNC cutting is easily adopted in any manufacturing process. It can be used to speed up the process and complete it with minimal loss and expense.
Advantages of CNC Cutting
CNC cutting creates products with little or no waste.
It offers greater accuracy.
It results in faster and more efficient production.
CNC cutting provides improved worker safety.
Production costs are lowered with CNC cutting.
There is a reduction in energy consumption.
CNC cutting produces items with fewer defects.
Choosing the Proper CNC Cutting Company
To ensure the most positive outcome when using a service from a CNC cutting company, it is important to compare several companies using our list of CNC cutting businesses. Each CNC cutting company has a business profile page highlighting their areas of expertise and capabilities, along with a contact form to directly communicate with them for more information or request a quote. Review each CNC cutting business to get an idea of what each company specializes in. Then, use our simple RFQ form to contact multiple CNC cutting businesses with the same form.
CNC Cutting Informational Video